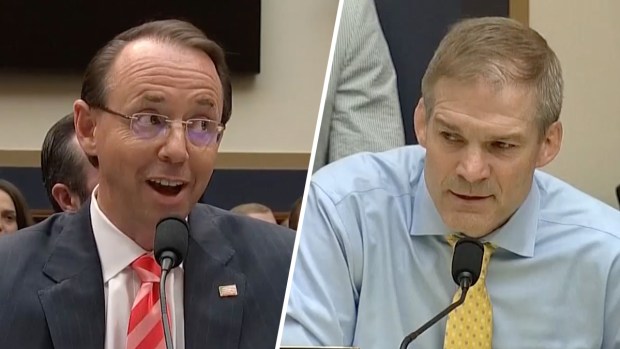 Don't mess with Rod.
Rep. Jim Jordan, a Republican from Ohio, has been
accused
of ignoring the sexual abuse of college wrestlers by a doctor when Jordan was a wrestling coach at Ohio State University.
The alleged abuse occurred more than 23 years ago. So why would it be surfacing now? Is there any such thing as a coincidence?
Let's see. Jim Jordan's name has been tossed about as a possible replacement for House Speaker Paul Ryan. Jordan has also
led
the charge against the corruption at the FBI and DOJ and is known for many heated debates in hearings. Watch:
You just don't want to cross the Deep State.
This just happens to be another coincidence: The law firm investigating the Ohio State charges is none other than Perkins Coie. This firm is
complicit
in the coup attempt against President Trump:
Perkins Coie lawyer Marc Elias hired the company that compiled a dossier with allegations about Donald Trump's Russia connections, the law firm confirmed on Tuesday.

Elias hired the company, Fusion GPS, to assist in the law firm's representation of the Clinton campaign and the Democratic National Committee, report the New York Times and the Washington Post, which was first with the story. The Clinton campaign and the DNC helped pay for the opposition research, the stories report.
How hard would it be for the firm to find someone to accuse Rep. Jordan?
One of the accusers, Mike DiSabato is being accused by the widow of a marine for intimidating and bullying her over a memorial fund set up in her husband's name. Another accuser served time in prison for a $1.8 million fraud scheme.
It's
personal
.
DiSabato's confrontational relationship with Jim Jordan and the Jordan family extends well beyond his college wrestling days. The Jordans are themselves a family of wrestlers. Jim's brother, Jeff, runs a wrestling camp and also runs his own line of sports apparel. Emails obtained by CRTV show DiSabato attempting to report Jeff's sons Micah and Bo — Ohio State wrestlers — for supposedly violating NCAA rules by wearing kneepads produced by their father's business. Ultimately, Jeff Jordan and a spokesperson for Jim Jordan say, the university found that the use of the kneepads was not in violation of the NCAA's amateurism regulations.
In addition to his problem with the widow, DiSabato had an
ugly run-in
with Bret Adams, a sports agent who represents former Ohio State and NFL football star Chris Spielman. Earlier this year, DiSabato was arrested on charges of telecommunications threats against Adams. And Adams has sued DiSabato for defamation, alleging that the former wrestler falsely told business associates that Adams was racist and sexist.
Jordan should have realized what would happen if he crossed Hillary. She has a history.