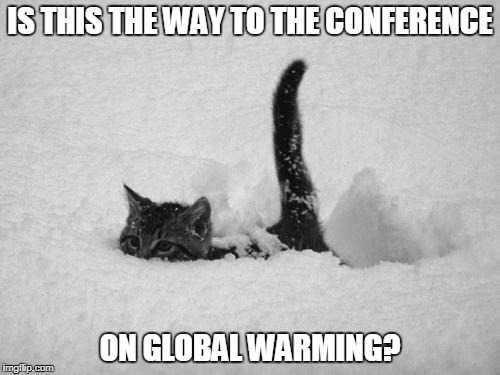 We like to sit around the campfire roasting marshmallows and fondly sharing stories about the good old days when it was called "global warming." That, as you'll fondly recall, came shortly after "global cooling."
Steven Hayward
suggests
that we're now moving on to something else.
Climate change is over. Climate change is no longer a pre-eminent policy issue. All that remains is boilerplate rhetoric from the political class, frivolous nuisance lawsuits, and bureaucratic mandates on behalf of special-interest renewable-energy rent seekers.

A good indicator of why climate change as an issue is over can be found early in the text of the Paris Agreement. The "nonbinding" pact declares that climate action must include concern for "gender equality, empowerment of women, and intergenerational equity" as well as "the importance for some of the concept of 'climate justice.' " Another is Sarah Myhre's address at the most recent meeting of the American Geophysical Union, in which she proclaimed that climate change cannot fully be addressed without also grappling with the misogyny and social injustice that have perpetuated the problem for decades.
It was always more ideology than science.
A case in point is climate campaigners' push for clean energy, whereas they write off nuclear power because it doesn't fit their green utopian vision. A new study of climate-related philanthropy by Matthew Nisbet found that of the $556.7 million green-leaning foundations spent from 2011-15, "not a single grant supported work on promoting or reducing the cost of nuclear energy." The major emphasis of green giving was "devoted to mobilizing public opinion and to opposing the fossil fuel industry."
Al Gore will have to find a different kind of snake oil.