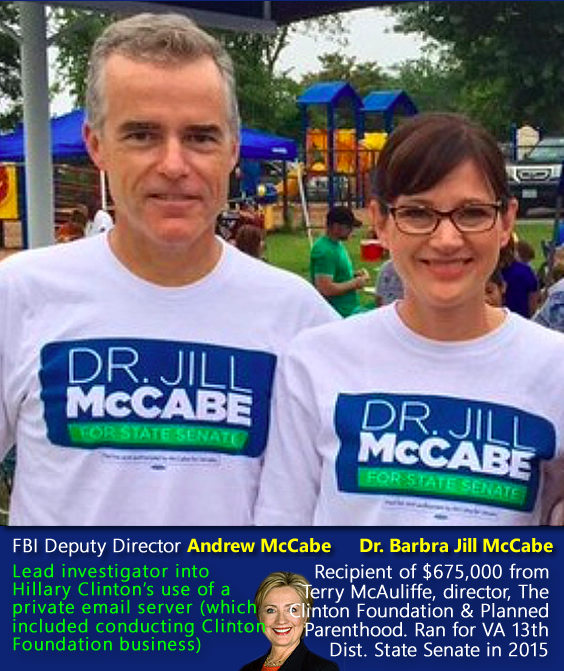 Jill McCabe is a pediatrician in Loudon County, Virginia, and probably a good one. I'd take my kids to her.
In 2015 Virginia Lt. Gov. Ralph Northam
persuaded
her to run for the state senate, and she did. Dr. McCabe spent $1,231,484 on her campaign. Her opponent, Dick Black, spent only $848,985, but he won.
Dr. McCabe never ran for office again. McCabe's campaign filings show she
received
$467,500 from Common Good VA, a political action committee controlled by Virginia Gov. Terry McAuliffe, as well as an additional $292,500 from a second Democratic PAC.
McAuliffe has been a
central figure
in the Clintons' political careers for decades.
In the 1990s, he was Bill Clinton's chief fundraiser and he remains one of the couple's closest allies and public boosters. Mrs. Clinton appeared with him in northern Virginia in 2015 as he sought to increase the number of Democrats in the state legislature.

Dr. McCabe announced her candidacy in March 2015, the same month it was revealed that Mrs. Clinton had used a private server as secretary of state to send and receive government emails, a disclosure that prompted an FBI investigation.
Jill is married to Andy McCabe. At the time the Clinton investigation was launched in July 2015, Mr. McCabe was running the FBI's Washington, D.C., field office, which provided personnel and resources to the Clinton email probe.
At the end of July 2015, Mr. McCabe was promoted to FBI headquarters and assumed the No. 3 position at the agency. In February 2016, he became FBI Director James Comey's second-in-command.

As deputy director, Mr. McCabe was part of the executive leadership team overseeing the Clinton email investigation, though FBI officials say any final decisions on that probe were made by Mr. Comey, who served as a high-ranking Justice Department official in the administration of George W. Bush.
How did Andy
handle
this obvious conflict of interest?
McCabe, a top FBI official who came under scrutiny last year over his wife's campaign contributions from a Hillary Clinton ally, did not list those 2015 donations or his wife's salary in financial disclosure forms, according to records reviewed by Fox News.
This week Andy was shoved out of the FBI. Apparently he gets to keep his pension. Well, good. Although given what doctors earn, you have to wonder if he really needs it. Andy and Jill join
John and Ellie Ohr
in the pantheon of Couples of the Coup.
If this were a movie plot nobody would believe it.