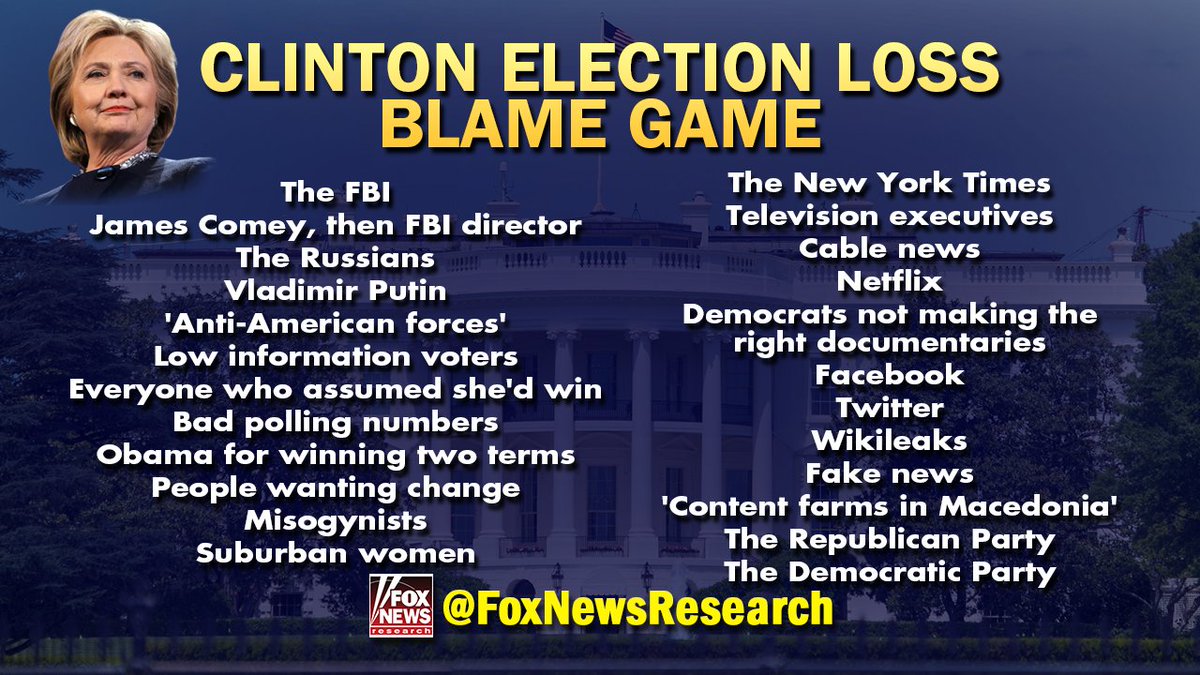 Everything she's blamed her loss on.
Hillary has become a public embarrassment. Bill or Chelsea or Monica should tell her to Just. Shut. Up.
Here are the headlines on Drudge:
Maybe John Podesta can stop her. As you know, he's the brains behind the dolt. He's the one who cooked up the whole Russia collusion narrative. A new book,
Shattered: Inside Hillary Clinton's Doomed Campaign,
explains how Clinton's Russia-blame-game was hatched by senior campaign staffers Podesta and Robby Mook, less than "within twenty-four hours" after she conceded:
That strategy had been set within twenty-four hours of her concession speech. Mook and Podesta assembled her communications team at the Brooklyn headquarters to engineer the case that the election wasn't entirely on the up-and-up. For a couple of hours, with Shake Shack containers littering the room, they went over the script they would pitch to the press and the public. Already, Russian hacking was the centerpiece of the argument.
The Clinton camp settled on a two-pronged plan — pushing the press to cover how "Russian hacking was the major unreported story of the campaign, overshadowed by the contents of stolen e-mails and Hillary's own private-server imbroglio," while "hammering the media for focusing so intently on the investigation into her e-mail, which had created a cloud over her candidacy," the authors wrote.
Podesta got the idea from his
brother Tony
, a Democrat super-lobbyist, who was paid $170,000 over a six-month period last year to represent Sberbank, Russia's largest bank, seeking to end one of the Obama administration's economic sanctions against that country. Podesta, founder and chairman of the Podesta Group, is listed as a key lobbyist on behalf of Sberbank, according to Senate lobbying disclosure forms. His firm received more than $24 million in fees in 2016, much of it coming from foreign governments, according to the nonpartisan Center for Responsive Politics.