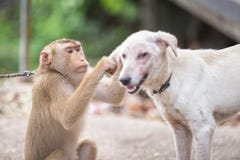 Checking for ticks.
I live in Southwest Connecticut just two hours from Old Lyme, the epicenter of Lyme's Disease. That affliction resides in ticks that reach your yard on mice and deer.
Right now everyone is talking about ticks, and people are reporting ticks they pulled off themselves and their pets. This is good. Otherwise, what we talk about? The stone walls everywhere here?
It's a lot worse this year, according to
The Wall Street Journal
.
Milder winters, burgeoning mice and deer populations and a bumper acorn crop from two years ago mean this year's tick season is expected to be bad and more widespread, experts say. With that comes the threat of more tick-borne diseases, including the most common, Lyme disease.
States like Connecticut—home to the town of Old Lyme where the disease was first diagnosed—are already reporting a higher number of ticks infected with the Borrelia burgdorferi bacterium, which causes Lyme disease, as well as other tick-borne pathogens. The deer or blacklegged tick can transmit up to seven pathogens that cause human diseases, including Lyme disease.
A really
spooky disease
is showing up across the country.
The Powassan virus (POW) is a rare but serious disease that can be spread to humans by infected ticks quickly after the initial bite.
For comparison, while it takes a tick carrying Lyme disease nearly 24 hours to pass the infection on to a human host, a tick with POW can transfer the virus in as little as 15 minutes.
Once a human has contracted the disease, POW can cause severe inflammation of the brain and the membranes that surround the brain and spinal cord.

Due to the severe neurological impact of the disease, about 10 percent of all POW cases are fatal, with about 50 percent of cases resulting in permanent brain damage.
Some will say that describes me.
I spray my ankles when I go outside, and we'll have a company come spray our property twice. I keep looking for more things to do. Here is
detailed information
from the State of Connecticut on what you can do.